At New Signature, we refer to the bundle of strategic and tactical thinking that precedes any "real work" on a web project (that is, design and programming) as Phase 0. This collection of tasks typically consists of the following:
Strategic Analysis and Planning
Information Architecture
Wireframing
Technical System Design
We consider these steps absolutely mission critical for delivering great results, and we think our approach to them separates us from a lot of other firms delivering attractive websites — because being successful takes much more than being attractive. As XKCD eloquently demonstrates: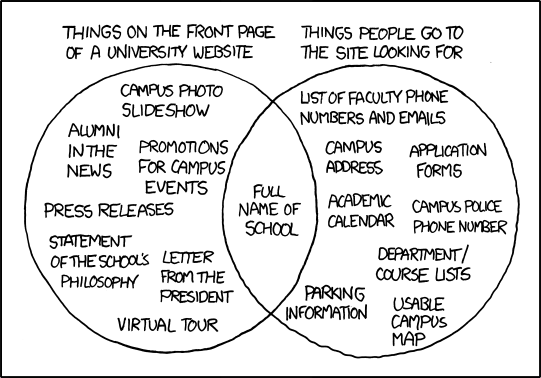 Phase 0 addresses more than just the potential gulf between what users are looking for and what a website offers, but ensuring there's no such disconnect is certainly a large part of it. To understand what makes our Phase 0 so valuable, though, you first need to understand what all the steps are about.
Strategic Analysis and Planning
Often referred to as the "discovery" phase, this is where we get to know your organization and your users. There are often a lot of questionnaires and meetings, allowing us to get a sense of how your organization is unique, what business needs your website needs to address, who your users are, what their goals are, who you may be competing for attention with, and so on. Typically in this phase we'll try to create some user profiles and tasks that we can use in later steps as measuring sticks to make sure we're on the right track.
Information Architecture
This phase addresses the organization of the website; sometimes IA is used interchangeably with "sitemap." Here we identify all the different types of content, resources and interactivity that will be present on the site, and organize it all in a way that makes it easy for users to find what they're looking for. Since we identified some key audiences and tasks earlier, we can make sure that the most important content is the easiest to locate. And when our engagement allows, we try to put our assumptions regarding "what's easy" to the test by, for example, getting some sample users to do card-sort tests.
Wireframing
Once we have the basic organization of the content down, we don't move straight into design. Instead, we move on to wireframes, which are page layouts devoid of photos, color, typography and other visual design. We use these to make sure that content is well organized on a page — is the most important thing the biggest, and is the rest of the hierarchy on the page appropriate? Are elements that relate to one another grouped well?
Oftentimes, firms will skip this phase of the project and go straight into design; that's not the approach we take. Too often, when presented with a design, it's easy to lose the forest for the trees — conversation and critique tends to get lost in discussion of colors, or fonts, or photos, completely missing the bigger questions like, "Should that signup form really be in that location?"
Technical System Design
In this stage, we work with you to tease out all the details of exactly how different aspects of the website need to function. While your RFP may have identified a particular CMS, a need for an events calendar, or an interactive map, the details of exactly how those interactive components actually need to work are critical to suss out before any programming work begins. Otherwise, code may have to be rewritten (and designs reworked) after many hours have been put in, because, for example, no one said at the beginning that events wouldn't always have a physical location assigned to them.
This is another phase that too often gets neglected. Or, more likely, it's addressed in the initial bid for the project with a bunch of unspoken assumptions. We find that approach highly problematic — trying to estimate how long it will take to implement a system without understanding that system's details tends to result in extremely inaccurate estimates, missed deadlines, awkward conversations, and a host of other stumbling blocks to success.
Putting It All Together for Great Results
Combined, these stages of Phase 0 enable us to deliver great results. Why? Because before we write a single line of code or design a single page, we know precisely what needs to be done to be successful. We've figured out what the audience is looking for, what we have to give them, and how we're going to give it to them — so we can bring the two circles of "what users want" and "what the site has" close together. We've gone into detail on how things need to work, so we know which CMS is going to best fit the project's needs and exactly what sort of custom development may be needed to get the job done, whether it's Drupal, WordPress, Convio or some other platform. And we've carefully outlined how pages will need to be structured so the designs will be more than just pretty  — they'll drive user engagement and participation.
Of course, a lot of firms out there profess to go through these steps — but not all firms take them as seriously as we do. We have a lot of experience developing great strategies and know the right questions to ask and scenarios to consider to ensure the site hits the bullseye, and we spend a lot of time making sure we've looked under every rock before moving ahead. We use great tools for our IA and wireframing, so that we can present you with proposed solutions and mockups that are intelligible and truly point the way forward — there can be a big difference between a wireframe that's just a static PDF and an interactive one that mimics dynamic elements of the site. And our experienced staff of web developers have literally decades of experience with the systems and tools used to efficiently build and support reliable, easy-to-maintain standards-based sites; we take care to always select the best tool for the job, instead of just the tool we happen to like or happened to use for the last client.
Great websites don't just happen — they're the result of careful thinking and planning. Our Phase 0 has been refined to ensure we excel at that, each and every time. And our results speak to its success.